Pinterest was always officially grouped and classed as just another social media platform. Sure, it's somewhere people come for ideas, and to share their beautiful imagery, but it's not like any social media platform I know. Things are different over on Pinterest, and it can be more closely compared to Google, because the actual function of Pinterest is a visual search engine.
This makes Pinterest incredibly exciting, just like Google, consistent and regular work with a solid keyword strategy could help you amass thousands of page views each month, creating somewhat passive traffic over time. Instagram, and Facebook could never.
But the question is, what are the main differences from Pinterest and Google, and what opportunities could this present to small business owners, bloggers and brands. It's time to take a deeper delver into these two highly powerful search engines.
Is Pinterest Like Google?
Pinterest and Google can both be classed as search engines. However, Pinterest is a visual search engine, people come to buy without necessarily knowing what they want to buy. Whilst Google is a search engine based on search intent, users often know what they are looking for when they use it. There are some key differences between these two search engines that both provide opportunities to businesses.
Pinterest VS Google – What Are The Differences?
Domain Authority
Websites on Google require something called Domain Authority (DA) for ranking. The figure developed by Moz for websites is ranked between 0-100, calculated on the authority of your website. A brand new website that has just launched will have a DA of 0, this makes it impossible to start ranking for your specific keywords until you start to build some trust with Google. Whereas on Pinterest, your account does not require domain authority for ranking.
From day 1 on Pinterest you could start ranking for specific keywords. There is no barrier to growth or early success on Pinterest. Whilst traditional SEO is paramount for a website, organic search traffic is not the only option for a brand new business off the starting blocks.
Page 1 vs Scrollers
When making a Google search, most users stay on page 1. Organic rankings for a business are often considered credible, trusted by Google, so often people do not stray past page 1. For new businesses or those not effectively using SEO, this makes it incredibly difficult for them to get a look in on any organic traffic. Getting to a page 1 position can take a series of months with a solid SEO strategy.
On Pinterest, search intent is a little bit different. People often come to Pinterest without knowing what they want, during this early browsing stage. Pinners come open minded and are ready to be inspired. Because of this, during their visual searches, a whopping 75% of users scroll down past 60 results. Suddenly being a brand new business doesn't have to be such a hindrance, as you can start ranking and appearing in searches for pinners to discover you.
Google Sandbox
All new websites once they launch enter something called Google Sandbox. According to Ahrefs, "the Google Sandbox refers to an alleged filter that prevents new websites from ranking in Google's top results". Although this alleged Sandbox has never been officially confirmed by Google. Yep, you guessed it. On Pinterest there is NO restrictions for new websites, you can get an account setup today and start earning impressions and tractions instantly.
Search Intent Vs Pinterest Discovery
It's the battle of the search engines, but the way each of them is used is actually quite different. When people come to Google they have something called search intent. This is the term that is used to describe a specific search, why the person has come to make a search in the first place. They often know exactly what they are looking for, whether that's COVID symptoms or a branded watch they want to buy.
On Pinterest, the search engine is about visual discovery, with an emphasis on discovery. As demonstrated above, scrolling down on average 60 results from a Pinterest search.
A Pinterest search is usually a vague, unbranded search that results in discovery. They don't know what they're specifically looking for but they have an idea what they want to seek further inspiration on, and a visual search engine can help with just that. In fact, a whopping 95% of Pinterest searches are unbranded. Just another reason Pinterest is an inclusive and accessible platform for any new account, or small business. The potential is there.
Shopping Ads
Building organic traffic through SEO for a brand new website can take some months to start seeing traction. If you have a warehouse or room full of stock that's not shifting, no one can wait that long. That's why Google Shopping ads are an instant no brainer on the platform. They can help you be seen in the prime, top position when people are searching, and it can even help with your domain authority over time.
Pinterest have something similar called catalogue ads that work in a similar way, your ads can be found amongst peoples feeds rather than at the top of searches.
However, you don't need to necessarily pay for exposure when you have a connected product feed. When you have a connected feed it opens you up to appearing on thousands of shoppable surfaces. This means that if your item looks like something in another pinners pin, when the user taps to view similar items, your will show up for FREE. This is one of my favourite things about e-commerce businesses on Pinterest, and rather surprisingly there are still SO many businesses not using this functionality.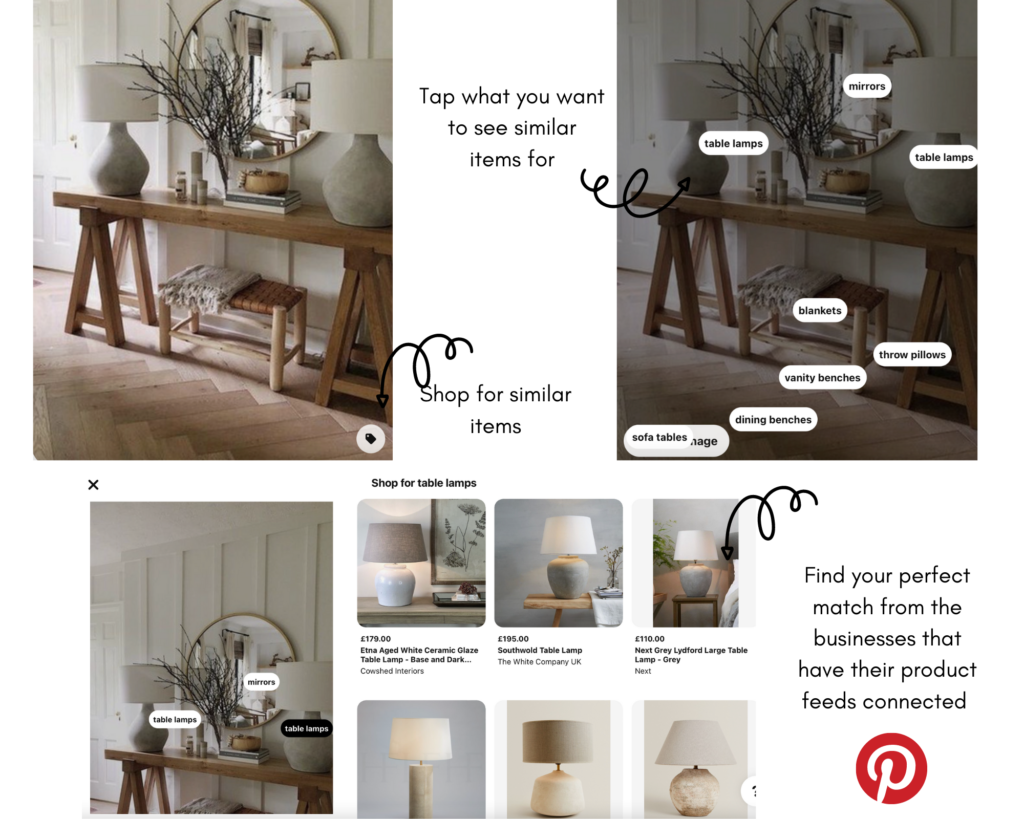 Seasonal Trends
Ranking for a seasonal trend or an emerging trend on Google is only possible in the short term if you have a high domain authority and you can rank a killer piece of content that is going to outrank the top position, you also have to be incredibly reactive to emerging trends or topical news. Because of this, seasonal content is not a great route to go down for a brand new website just starting out. You'd be better off focusing on low competition, low searches on a search term that you know you could rank for.
On Pinterest, trends also change constantly, if you can be super reactive to these you can rank and experience exponential levels of traffic, regardless to how young your account is.
Whilst it's still recommended to start pinning seasonal content a few months before a seasonal trend hits the height of traffic, it's still incredibly doable to start ranking for content like this on Pinterest, without having to wait another year for it to rank.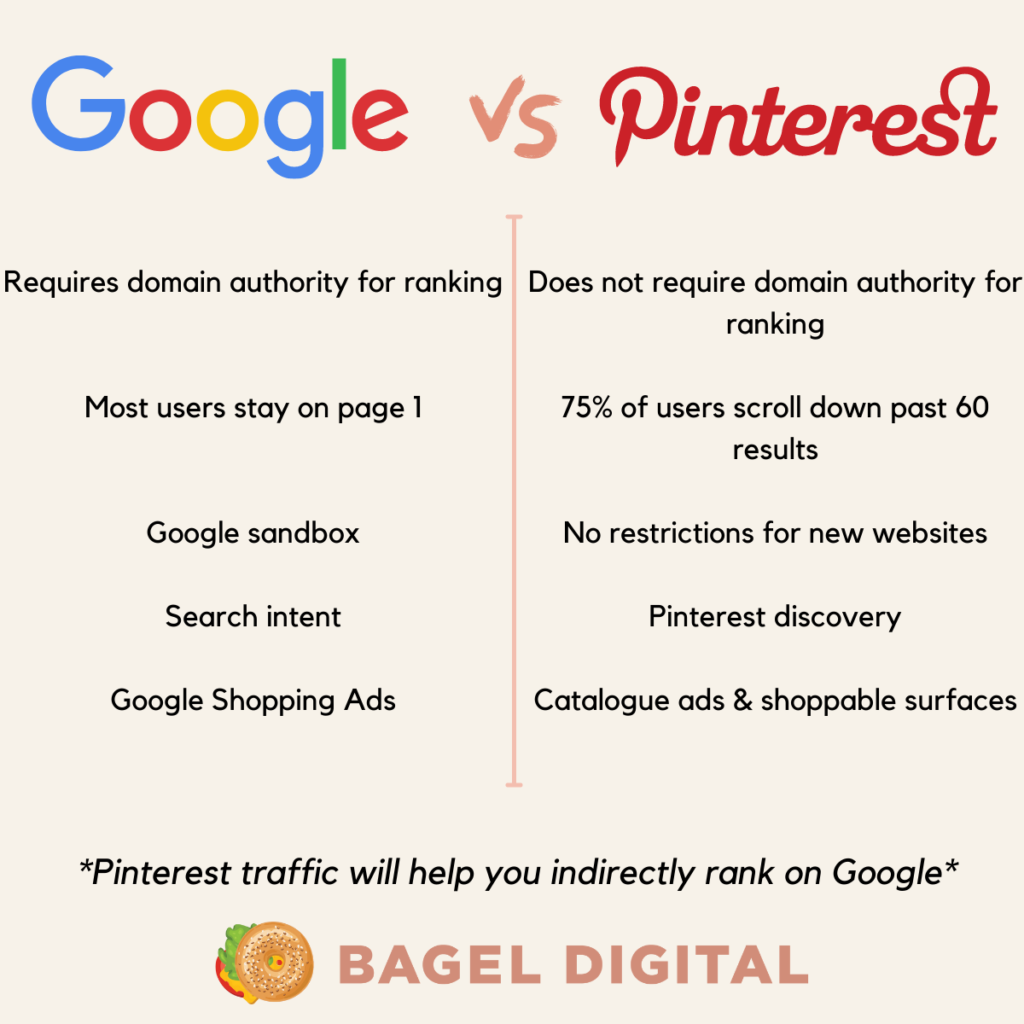 Pinterest Traffic Will Help You Rank On Google
Indirectly, Pinterest traffic that you are getting to your website will help you rank on Google too. This type of off-page SEO works because when a website starts getting a lot of traffic from another source it sends all of the right signals to Google to demonstrate that this is a popular website, and it's probably trustworthy too.
The same can't be said for Google. Having a high domain authority on Google will not get you anywhere in the short term on Pinterest, you have to start from scratch and build from there like the rest of us.
Google Trends Vs Pinterest Trends
Both search engines have a valuable trends tool so you can get a glimpse at the current top trending topics on these platforms. Most of the top Google searches would never be searched on Pinterest, and when you look at Pinterest trends, they are all visually led, where people are looking for inspiration and ideas relating to them.
Let's have a little look at some of the current top trending topics on Google Trends and Pinterest Trends so you can see the difference.
Google Trends Top 10
Billie-Jo Jenkins
Lukaku
Tom Mann
Fall Guys
Elon Musk
Elon Musk Children
Beyonce
Mum Faceplants Sports Day
Kaliningrad
Jessie Wallace Eastenders
Pinterest Trends Top 10
Fotoshoot Lingerie
Half Sleeve Tattoos Forearm
Summer Nails 2022
Graphic Poster Art
Capsule Wardrobe 2022
Sun and Moon Tattoos
Spring Dessert Ideas
Love Hypothesis
Side Boobie Tattoo Small
Small Bathroom Ideas
As you can see, the types of trending searches on Google and Pinterest are WILDLY different. The Pinterest searches are visually led, but there is also far more opportunity to create content for these searches and actually get found. Whereas on Google, these named searches are likely to be heavily ranked by the likes of Wikipedia and news outlets, there is little scope for manoeuvring and applying them to your brand or business, unless you have a niche website that just talks about Elon Musk!
Pinterest VS Google Summary
Having worked with both platforms on SEO for a website and helping businesses to rank and get exponential traffic from Pinterest, both platforms are highly valuable and play an integral role in helping a new website launch, and existing businesses thrive.
For me, I don't think you can have one without the other (unless your niche doesn't work with Pinterest), it's never good to hold all your eggs in one basket, building balanced traffic across multiple platforms is the way to go for a much more secure, and less volatile standing online. Both platforms are susceptible to algorithmic changes, the main reason why it's important to focus growing on multiple platforms.
If you have any questions about Pinterest marketing or need any help getting your product feed connected please get in touch. We are Pinterest marketing strategists based in Devon, UK, serving across the world.