In 2021, Pinterest launched an exciting new feature called Idea Pins. This immersive type of storytelling was designed to help pinners find, try and buy great ideas, whether it's for their next trip, next home or next business plan. Idea pins have taken the Pinterest world by storm as they open up new opportunities to get discovered, and to increase engagement.
Pinterest idea pin ads have now just been released to the UK, and rest of the world. This opens up a new way for businesses on the app to connect with existing, and new users. Let's start by going back to the basics…
What Are Idea Pins?
Idea pins are at the heart of immersive storytelling. They are made for sparking inspiration for pinners and follow a similar format to Instagram stories, yet they will always exist on your Pinterest profile, continuing to gain traction, engagement and traffic overtime.
The idea pins feature allows you to add up to 20 pages of content, both static and in video elements (2-60 seconds of video). Idea pins are designed to tell a story and to get you to keep clicking through. They are perfect for how-to's, tutorials, personal growth stories, day in the life, how to plan, make or do stories.
Idea pins keeps users on Pinterest, they don't currently support outbound clicks (no date for this either). Idea pins can be discovered from your followers, tagged categories, in search and from a brand new watch tab on Pinterest which purely serves video only pins.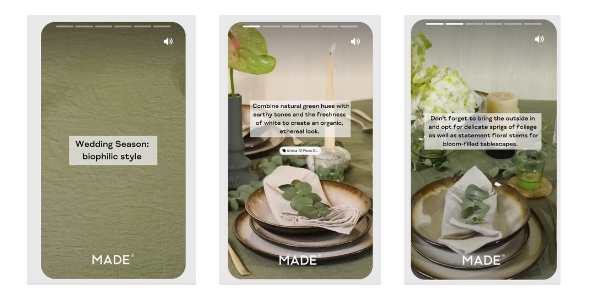 What Are Idea Ads?
Idea ads are an extension from idea pins, allowing you to create immersive storytelling and targeting them to reach new, and specific audiences. Idea ads are created from existing idea pins, or they can be created during setting up the ad.
The best part is that unlike idea pins, idea ads support outbound links so you can now send pinners to a dedicated destination to take action.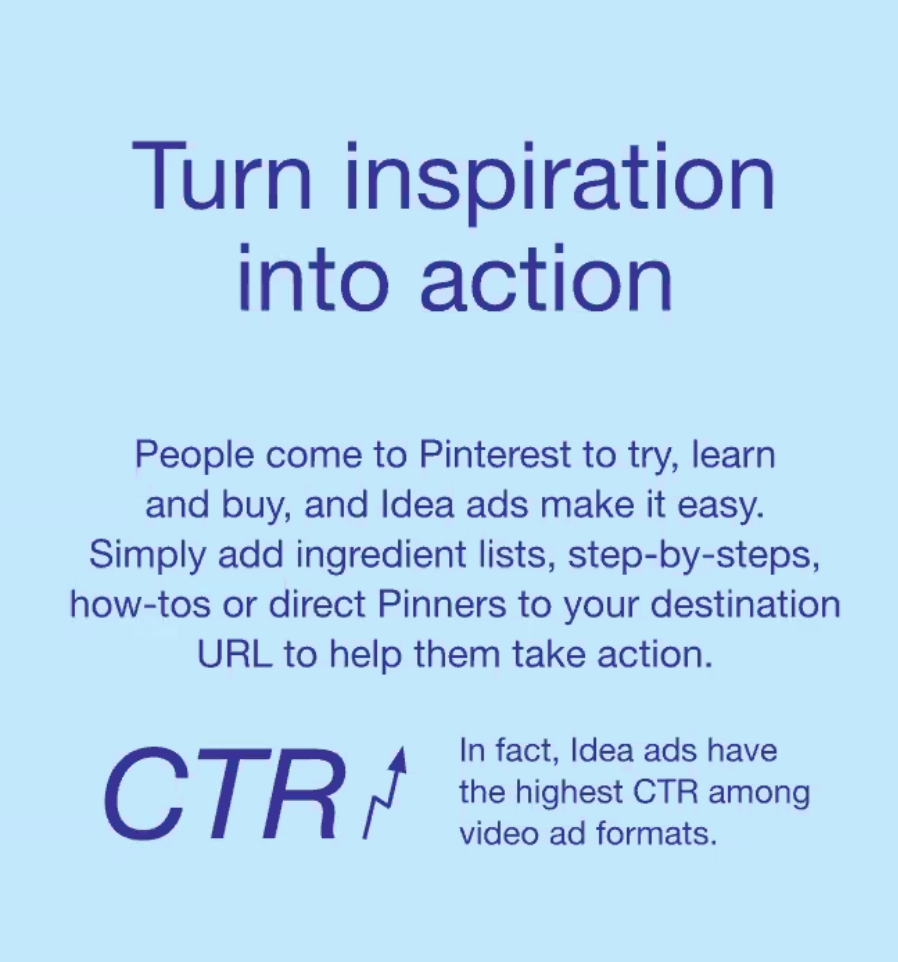 What Idea Ads Could Businesses Post?
Idea ads require genuine storytelling. People come to Pinterest to not be passively entertained, they are here to discover and act and they often come to buy something without knowing what they want. If you can capture them effectively whilst they're browsing at this early stage, then you could help to influence their buying decision.
Pinterest also stated that a whopping "97% of searches on Pinterest are not branded, with 80% of weekly Pinterest users discovered a new brand on Pinterest". Now, we know what Idea ads could deliver to your business and the potential they have, let's explore what idea ads you could post as a business;
Focus on something within these 4 categories; process, personal, knowledge and community.
PROCESS – How-to tutorials – how to use, how to make, how to plan, make with me
PERSONAL – personal growth story, day in the life
KNOWLEDGE – Product story, product recommendations, hacks & tips
COMMUNITY – Q&As, challenges contest, exclusive access to promotions, behind the scenes content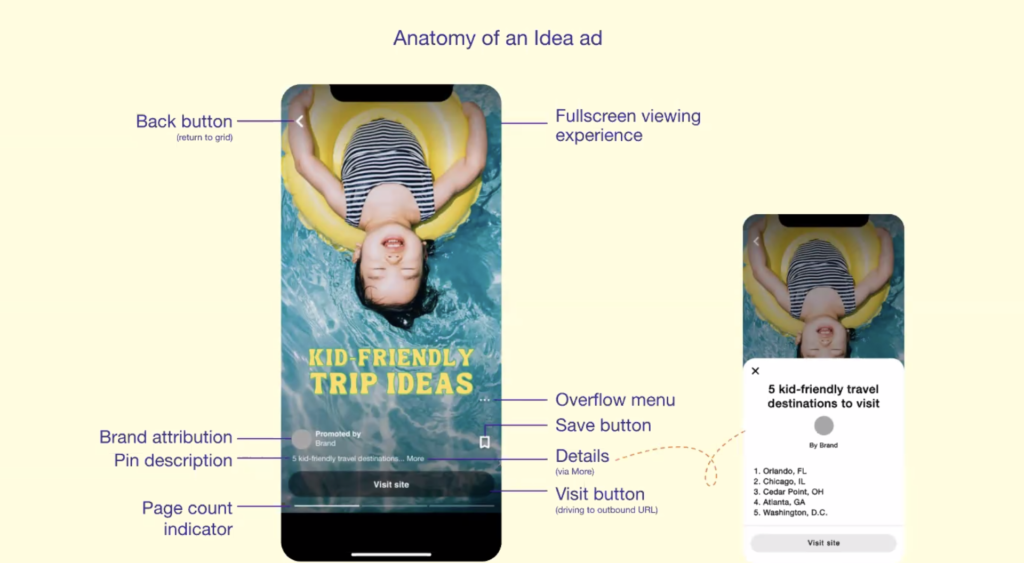 Pinterest recommend always starting an idea ad with video that has a clear title page (like above), so pinners know exactly what they are getting into. Video clips can be between 2-60 seconds per page, but it's great to mix them up with static images too to keep it extra engaging for your audience.
Adding text overlay to graphics is recommended even with a VoiceOver as this makes it accessible to those with the sound off, and those who are hard of hearing.
Idea ads are designed to tell a story on multiple pages, but you can stick to one page if you want. Timelapse's, OOTDs, reviews and first person POV's are best for this short type of idea ad.
Quick, upbeat video and time lapses grab attention of pinners which helps to increase view through rates. Whatever you choose to post as an idea ad, make it actionable with a strong CTA (call to action), add it at end of idea ad or point to the visit button from the graphic.
Creating idea ads can mean a refocus on how your team create video, this was a great graphic and pointers delivered by the Pinterest team on how to adapt to using vertical video content.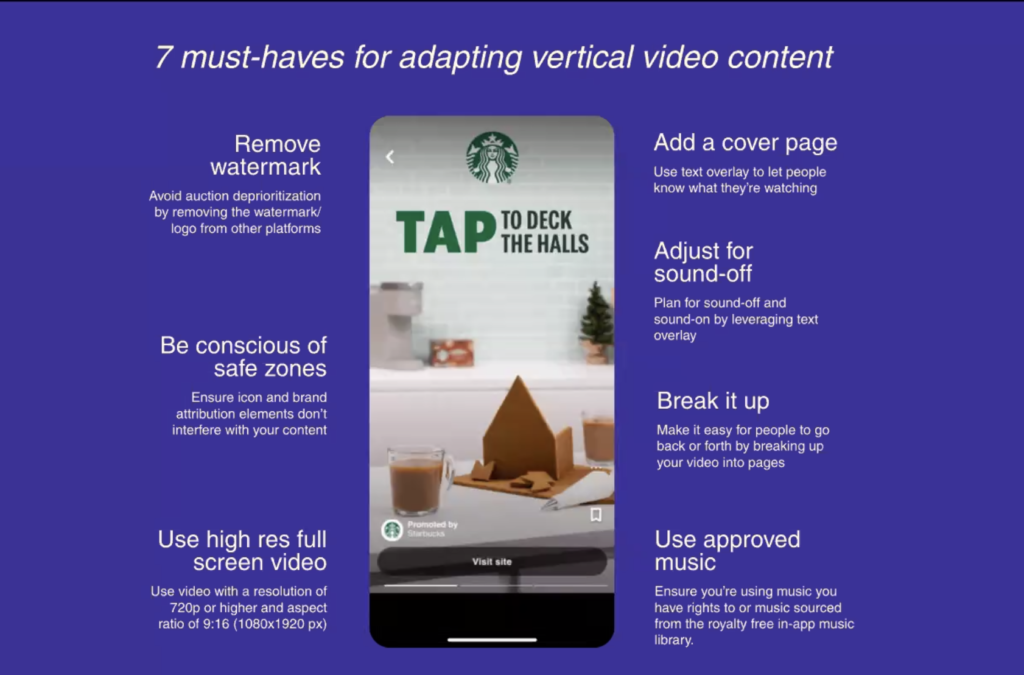 Idea ads are now available now in the following markets: US, UK, CA, AU, DE, AT, CH, FR, IE, NZ, ES, IT, SE, BR, MX, AR, CO, CL, JP, NO, DA, FI, BE, NL, PO, LU, MT, CY, CZ, GR, HU, PL, RO, SK.
Idea pin ads are an incredibly exciting new feature for businesses, if you're looking to get setup or need any Pinterest marketing help then do get in touch with us!