Gaining a following on Pinterest is a different landscape to what it was 5 years ago. Like any social media algorithm, bars change and your Pinterest strategy has to adapt to the changes. When it comes to Pinterest marketing there are better 'vanity metrics' to pay attention to including monthly views, impressions and direct outbound clicks to your website.
Pinterest is a visual search engine, so pinners will still find your content, without having to be your follower. However, having a decent amount of followers directly helps with Pinterest Idea impressions, whilst they don't currently allow you to link on Idea pins, they are great for growing your monthly views on the platform. And of course, from a vanity and credibility point of view for a business, followers are great!
Looking to take your Pinterest growth strategy to the next step? Here's how to get your first 1,000 followers on Pinterest in 2022 with these easy steps.
How To Get Your First 1,000 Followers On Pinterest
1.Optimise Your Pinterest Profile
Once you have created your business account, the first step to attracting those initial followers is to complete and optimise your profile. Add a business logo, craft a well written bio – who are you, what do you, what do you offer and what problem are you trying to solve (try and think about keywords here, what would your ideal customers be searching for to find you), tie it up by including your website URL.
Another step forward is to claim your website which we will come onto shortly.
2. Create A Minimum of 25 Boards
If you've got no content on your feed, why would people follow you? Getting your Pinterest account moving is the hardest thing, but once you have initially set enough time aside to get some good quality, fresh content onto your account then you are in that position to start attracting followers.
You should have a minimum of 25 boards on your Pinterest account to offer enough value to prospective followers, and have enough content to start ranking in searches and gaining impressions. Not sure what boards to start with? Remember to focus on your business niche, don't start adding irrelevant boards of things you personally enjoy, save that for a personal account.
So, let's say you have an online lighting store, you could break it down into;
Lighting collections
Product types
By colour, such as Black Lighting Aesthetic
Home Interior Trends
Lighting Trends
Interior Designer Insights
Lighting Design – help guides, tutorials
Blogs – split these down into cluster groups for more niche relevancy
(Your keyword research should also help form names, and see what people are actually searching for).
3. Claim Your Website
If you have a website, one of the first things you're going to want to do is get your website claimed. There is a number of benefits of doing this including getting analytics on the pins you create, and from those who create pins from your website.
It also means that as a verified merchant (if you connect a product feed) you'll get a verified blue tick, and if you're a verified account or creator you'll get a red tick. What does this mean to a Pinterest user? It gives your account and business credibility on this trusted platform.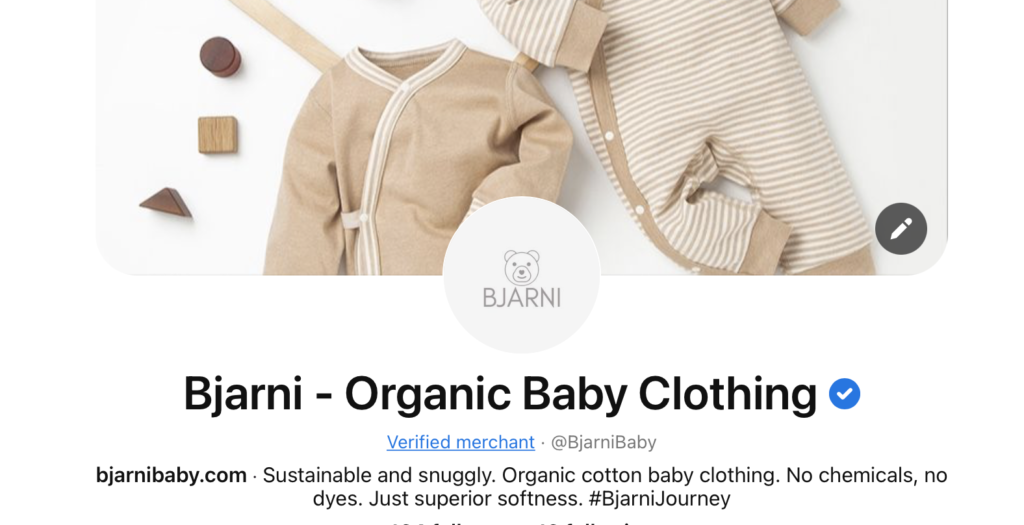 There are a number of ways that you can claim your website on Pinterest, they provide an easy walkthrough of step by step tips on how you can do this.
3. Conduct Keyword Research
Keyword research should be the starting place for creating your boards, pin titles and descriptions. Remember, Pinterest is a visual search engine and results are derived from words. On Google you have ' search intent', this is where the user knows exactly what they're looking for, whereas on Pinterest people search for discovery, this is what offers such huge potential for brands on Pinterest.
There are a number of ways to conduct keyword research on Pinterest, a little bit more primitive than keyword analysis for google, but just as effective. The best way to see what people are searching for is by heading to the search box on Pinterest.
Type a few keywords in and it will list a number of other suggested keywords beneath it, hey presto, your keyword research is as easy as that. It's a good idea to start with a seed keyword, add it to a spreadsheet and then list all of the suggested keywords next to it. Building up a little bank like this will give you something easy to refer back to, and full direction on what keywords you need to include across all of your copy on Pinterest.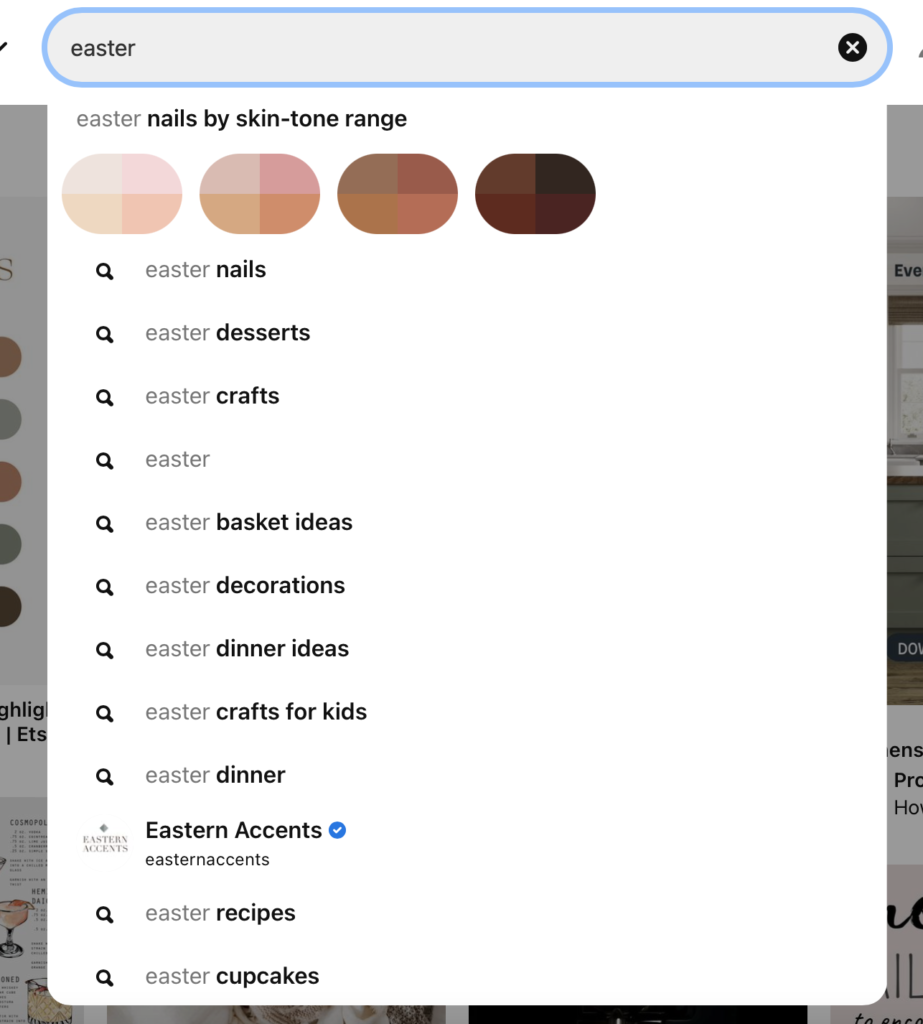 Another method I like to use for keyword research on Pinterest is by using Pinterest Trends. This works in a very similar way that if you type a keyword in, it will provide a list of other suggested search terms. As this is their trends tool, it also shows a graph of each keyword to show what the search history is like overtime, displaying peaks and troughs. This gives us a a guided way to understand when to start posting about particular trends, and also when not to bother.
Keyword research is KEY (excuse the pun) to your Pinterest strategy. If you can get this aspect right on your pins, you're going to be appearing in all of the right places, and begin to rank well for your content too.
4. Create Attractive Pin Graphics
No one is going to click on your pins if they're dull and provide no context. TELL the Pinner what your pin is about. This is why pins with graphic overlays tend to do better than those that don't on the platform. When choosing your pins, use a bright, uncluttered photo and add easily legible text as an overlay.
It's important to not overload the picture, and you want them to click through so make it a catchy headline that makes them want to explore it further. Here's a great example of an attractive graphic pin that works!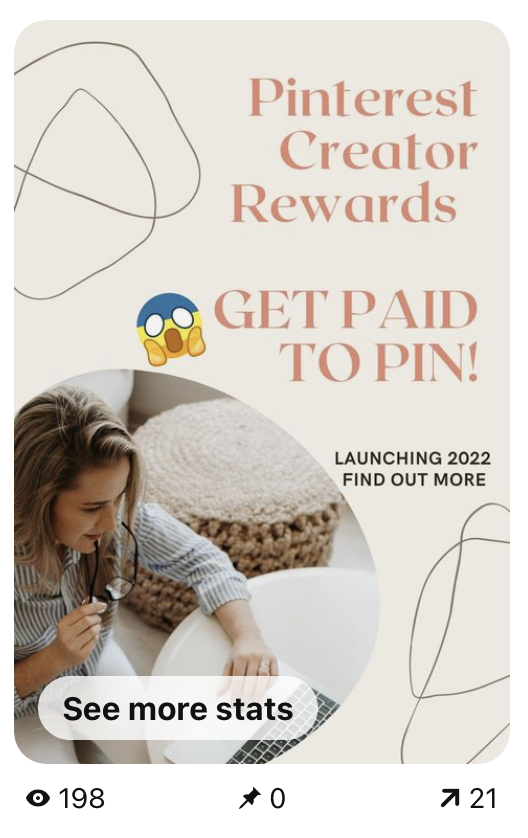 Not sure how to get started? Canva is one of the best resources for creating content like this, without needing to retrain as a graphic designer. There is a FREE version of the account, but the Pro account is only £10.99 a month and you get access to 1000s of stock footage, fonts and features. If you're going to be creating them regularly, this is well worth the monthly investment.
5. Follow Relevant Accounts In Your Niche
If you want to build topical authority around your business on Pinterest you need to start reaching out and following relevant accounts in your niche. This will give you inspiration for what others are posting in your niche, create a curated feed for what things are relevant to your business, and of course, they might even follow you back, helping you on your way to your first 1,000 followers on Pinterest.
6. Create A Pinning Schedule – Post Consistently
Pinterest will reward you for consistency. If you think posting a handful of pins once a month is enough, it's not. The ideal happy medium is between 2-5 fresh pins PER day on the platform. Don't panic, these can all be scheduled in advance and bulk created to save you time.
You can schedule pins directly through Pinterest for FREE, you can schedule up to 100 pins in one go. Tailwind App is one of the most popular and well known scheduling tools for Pinterest. There is a free version of Tailwind but it doesn't come close to the amount of pins you can schedule as Pinterest. The paid plan is only $9.99 a month but this only lets you schedule 100 in one go.
From my personal perspective of using it for business accounts, I have used both and settled with Pinterest as it's much more user friendly to schedule, I've never had any technical issues and the best part really is that it's free.
The more pins you get out, the more opportunities you have to successfully grow on the platform, whilst your current audience will stay more engaged with the content you do post.
7. Focus On Fresh Pins, Not Other People's Content
5 years ago you could gain a lot of followers in a short period of time by consistently pinning a lot of content onto a select few boards, and when I say content, I mean re-pinning existing content on the platform. For Pinterest, what is the fun in that? They VALUE fresh content that doesn't already exist on the platform and they reward this.
If you want to re-pin content and find ideas for a house renovation it's best using a personal account for this as it will affect the success of a business account. When I say Fresh Pins, this means content that doesn't already exist on the platform and is new. You could pin the same photo a few different times with a different text overlay and each pin would still be considered fresh. So, whilst you may think you don't have anywhere near enough content to pin so consistently, try repurposing it and using different graphics to find your sweet spot.
8. Create Regular Idea Pins
Pinterest are continuing to promote idea pins which is their newest feature on the platform. The beauty of Idea Pins is that they sit on your profile forever, they don't disappear after 24 hours like Instagram, continuing to gain impressions, saves and follows over time. Your idea pins will immediately start gaining impressions as they are released to your followers and appear at the top of your followers feeds, in prime position.
Idea pins can also be found within your feed, and searches, as static pins do. Idea pins should be created consistently to keep your audience engaged, and attract new followers to your page. Whilst there is no set rules on how many you should post, it's good practice to do at least a minimum of 1 per week, but the more you post, the more impressions you will get, and chance of gaining followers.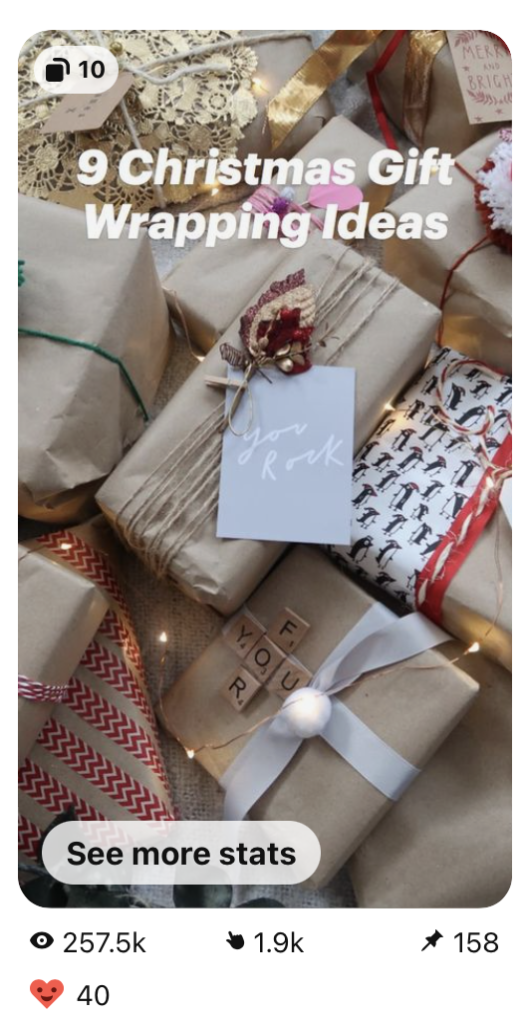 9. Optimise Board Titles & Descriptions
You're going to want to head back to the keyword section for this one again. Optimising board titles and descriptions is just as important as the pins themselves. Suggested boards can appear on pinners feeds, and adding the right keywords to titles and descriptions will help you to appear in those searches.
Think of this like the meta title and description you have for your website. Use thoughtful keywords that are highly relevant, don't spam them and provide that little advertisement as to why they should click that follow button on your profile.
10. Connect Your Product Feed & Become Verified
If you have an e-commerce business, then connecting your product feed is an absolute MUST! This enables all of your products to appear under a Shop on your Pinterest account, show up on shoppable surfaces across Pinterest and allow you to run catalogue paid ads on the platform.
If you have a WordPress website, it's super simple to get this setup without employing a developer these days. Pinterest have just launched a Pinterest for Woocommerce extension which is one of the easiest ways to get your products onto Pinterest. PLUS, the extension is currently free to download. There's no excuses anymore to not get this setup.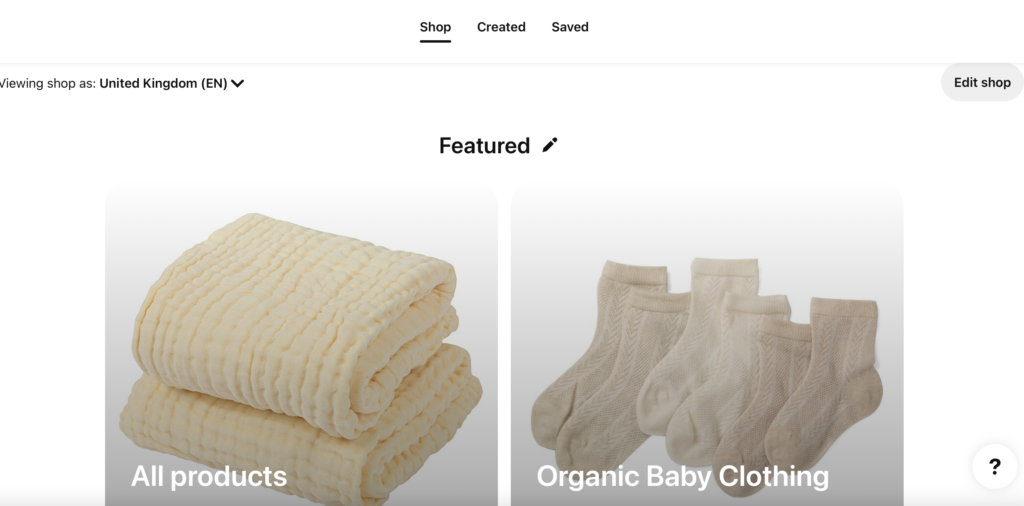 11. Use Pinterest Advertising
Pinterest advertising can be used for all business accounts on Pinterest and it is a great way to increase a new accounts visibility and following. If you have a product feed then you can run catalogue ads, these work in a very similar way to google shopping ads and they give you the opportunity to get your pins found across peoples feeds.
If you don't have a product feed then campaign ads are a great choice to increase your reach, and opportunity to bring in those all important followers to your account.
If you employ the above Pinterest growth ideas, then you should be able to reach your fist 1,000 followers on Pinterest in 2022 easily. Consistency, quality content and relevancy is key to growing a presence on this incredible visual search platform. If you have any questions about Pinterest marketing or need any help getting your product feed connected please get in touch. We are Pinterest marketing strategists based in Devon, UK, serving across the world.