We like to refer to Pinterest as the underdog of the marketing world. It quietly goes unnoticed, it does its business, it's the most positive social platform, and it WORKS. There are so many benefits of Pinterest marketing that can help a small business, large business or personal brand to reap the traffic and conversions that can be achieved as a direct result of using the platform.
Whilst Pinterest is not normal social media, in comparing it to the likes of other platforms such as Instagram, there is much more possibility to grow organically, without spending a fortune on ads. The current landscape on Instagram after multiple algorithm updates is very different. It has never been harder to grow on Instagram without a huge budget behind you. The party really is happening on Pinterest, and there's still time to get involved and start using it for your business.
If you're looking to dip your toes into Pinterest, here are just 9 benefits of Pinterest marketing that you can start reaping from that very first pin.
9 Benefits of Pinterest Marketing
A Business Account Is FREE
If you're launching onto this platform for the first time or have an existing account, you're going to want to convert it to a business account for full access to analytics and features. The best part? A business account is completely free, as well as lots of other features on the platform including getting a verified status, and connecting a product feed from your e-commerce store.
It's A Visual Search Engine
People head to google with specific search intent, but people head to Pinterest for discovery. This visual search engine is highly powerful, putting you into the prime position of peoples searches.
On google, 75% of users stay on the first page of Google when looking for a specific thing, whereas on Pinterest, 75% of users continue to scroll down, seeking visual inspiration. Pinterest doesn't rely on domain authority, if your keyword analysis has been executed perfectly, you have the ability to start showing up in searches from day 1. This is hugely exciting and still offers opportunities to businesses not already on Pinterest, Google could never.
Organic Growth
Organic growth has become somewhat of a myth on platforms such as Instagram in recent months. If you aren't paying for exposure, you aren't going to get any. Stat. On Pinterest, things are a little bit different. With the inception of Idea Pins last year, and content that will always remain on your platform, growing and attracting impressions, followers and traffic overtime, organic growth is at the heart of Pinterest.
Pinterest can be more closely compared to the likes of Google, than Instagram. Whilst the initial amount of time is high to get Pinterest working, by creating evergreen content on the platform you can set yourself up for passive traffic for years to come. I have had multiple occasions when a pin I created months ago suddenly goes viral overnight. You can grow and achieve great success on this platform without having to pay for advertising.
Idea Pins
If you like Instagram stories, then you'll love Pinterest Idea Pins! Whilst Instagram stories disappear after 24 hours, your idea pins always reside on your profile. This means that they will continue to grow and attract followers and impressions for months after the time you actually posted them.
This is one of the best features on Pinterest and as they will appear at the top of your followers feeds, they are in prime position to attract those early impressions. Idea pins ads are also to be released later on in 2022 on Pinterest, this will offer a new way to widen your audience.
Product Feed
Remember when google shopping ads were free? No, me neither. But I bet you'd jump on it if there was something similar? Well, shoppable surfaces are basically that. But you need to connect a product feed from your e-commerce store first, this only applies to product based businesses selling on their website.
Connecting your product feed is completely FREE to do. If you use WordPress, just download the free Pinterest for woocommece plugin to get started. You will also have the option to run paid catalogue ads with this in place, which is essentially google shopping feed ads, but dotted throughout a Pinterest users feed.
Shoppable Surfaces
If you don't want free Pinterest shopping ads just look away now. But, who wouldn't want to jump on this opportunity? Shoppable surfaces appear on almost every pin on Pinterest. We use Pinterest to find new things and seek inspiration, and there's nothing worse than seeing an image on social and loving an item but not knowing where it's from. Shoppable surfaces solve that with a couple of clicks.
Your products could be appearing in thousands of different shoppable surfaces per day without you having to do anything, or spend any money. Pretty amazing, right?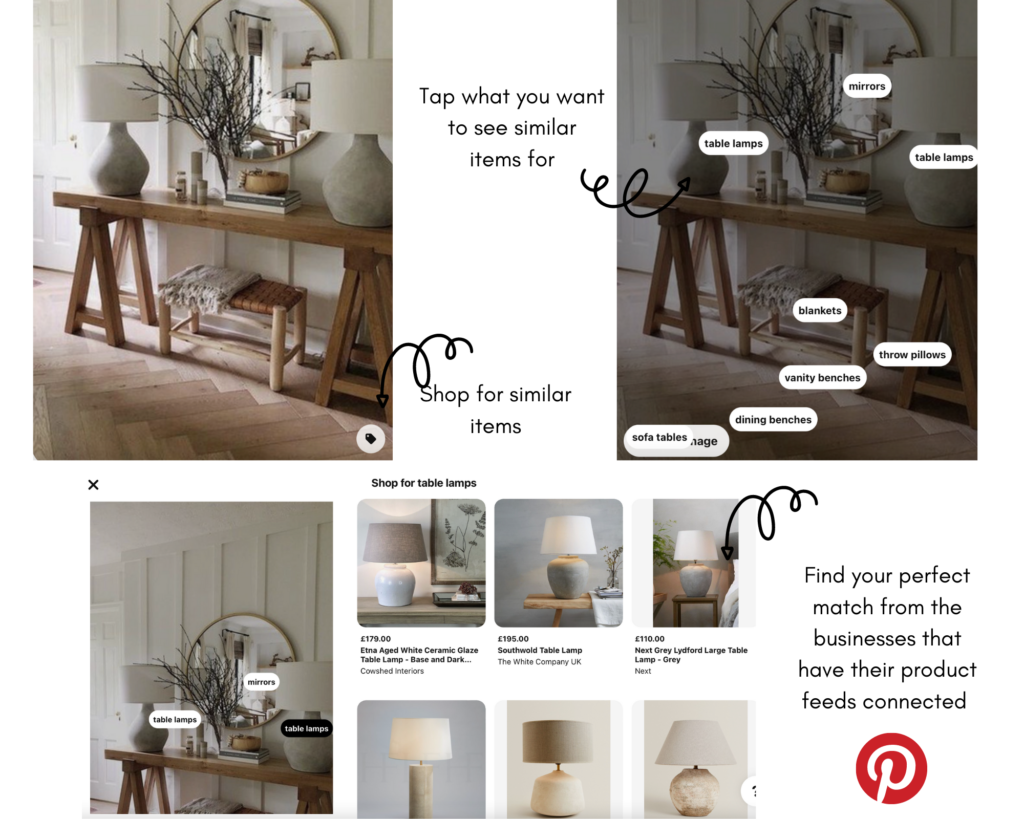 Great Opportunities To Go Viral
Pinterest arms you with the tools you actually need to go viral, there's no secrets or smoke screens about the process. Pinterest Predicts is the not yet trending report that is released at the end of each year. If you can tap into one of their relevant trends and post great content surrounding it, you have a great chance to go viral and increase your exposure when the trend hits its peak.
As well as this, the Pinterest search box is your greatest friend. Clicking into the search box and scrolling down you will see a section called 'Popular On Pinterest'. This is search terms that are currently trending on Pinterest.
My best tip? Be as reactive as possible. Trends change quickly on Pinterest, but if you can tap into one the results it can be incredible. I did this on my personal blog for a trending topic on 'Instagram Captions', it ended up attracting 1 million impressions in a 2 week period and 3,000 + outbound clicks to my blog.
Everything you need to create a viral pin is at your disposal, you just need to regularly analyse and be reactive to make it in the game.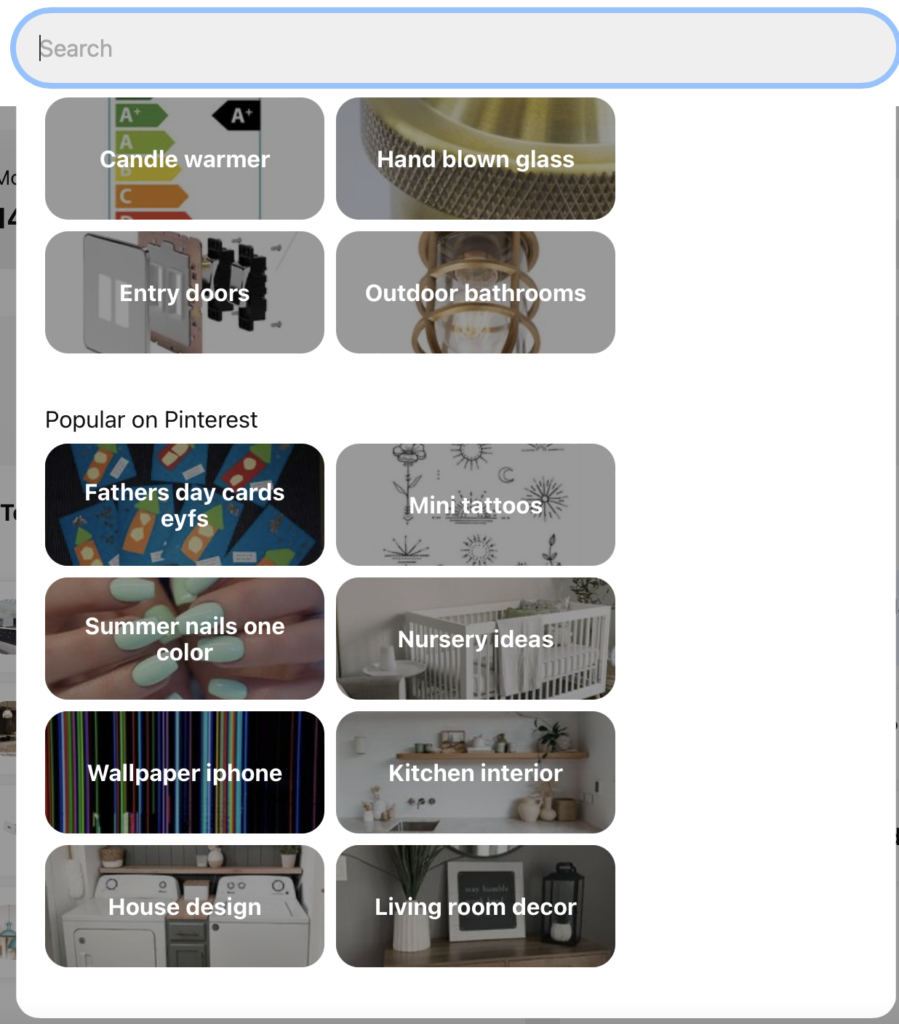 Pinterest Drives Traffic
If you get your keyword analysis right and are consistent with your pins, Pinterest can drive a huge amount of traffic to your website. As pins always stay visible on your profile and in search results, this creates passive traffic over time, without you having to do anything else to the pin.
To create pins that drive traffic, always post clear, bright imagery and add graphic overlays so you can tell the Pinner what your pin is about, and drive them to make that click to find out more.
Pinterest Converts Browsers Into Buyers
People flock to Pinterest for discovery, they're not quite sure what item, product or style they want, but they know what it is they're looking for, until they find it. Once they do, Pinterest converts more browsers into buyers than any other social platform. On Facebook you are generally looking at news articles, checking in on friends and family, and the likelihood of you converting from an ad that just pops up is pretty slim. In fact, it can take up to 6 touch points traditionally before a user is likely to convert.
Pinterest is going to reduce even more steps from discovery to conversion once they release the in app purchase API later in 2022, this will enable browsers to checkout on products directly from Pinterest.
Raring to get started? You might want to check out these best practices for pinning to set you on your way to success! If you have any questions about Pinterest marketing or need any help getting your product feed connected please get in touch. We are Pinterest marketing strategists based in Devon, UK, serving across the world.