Starting out on Pinterest can be somewhat of a barren place to begin with, you don't have any followers and you've got to start establishing yourself in order to start ranking for specifics on Pinterest. That's quite a common place to start, but what about if you've got somewhat of an established account, have been getting fairy good views on your pins and then all of a sudden every single pin you post is getting no views, or views in the low 10s?
Getting no views on pins seems to be one of the most common problems with those trying to grow their presence on Pinterest. In this blog, we take a look at 7 reasons why your Pinterest pins are getting no views, and what you can actively do about it from today.
1.Your Use of Keywords Is Not Good Enough
The number 1 thing to remember about Pinterest is that it's not social media, it's a visual search engine. What do search engines live off? Keywords.
If you've been posting pin after pin and hoping something sticks without keyword research, this is probably the main reason your pins are attracting 0 views, or very minimal impressions.
Graphics are important, but keyword research is more important. Before every pin I do some gentle keyword research on the Pinterest app using the search box. Quite often I will find much better keyword combinations that people are actively searching for vs what I was going to put.
These keywords you identify should be employed through your titles, descriptions, alt text if relevant and on your boards too.
Another great tool for keyword research which is FREE is Keysearch, you can search Pinterest keywords and find their monthly volumes too which is super helpful for finding the most popular keywords, but also it's useful for targeting the more lower competition keywords that you have a great opportunity to rank for.
If you start employing keyword research today, I promise that you will start to see the views on your pins increase.
2. The Pins Are Not Enticing
Your views may also be 0 because the pins you're posting or a) not enticing, b) not clear, c) it doesn't tell you anything about the pin.
Text overlays are a must for pins, especially those where you are driving someone to a blog post, this is also essential if you're wanting to increase outbound links too.
Adding a text overlay gives context to the pin, it can help with indexing on the relevant search terms and it gives a call to action to the Pinner. The key here is to include a small amount of text that provides clarity, has a CTA and is easily readable, you're going to want to ditch colours you can't see well and handwritten fonts that aren't very legible.
3. You Keep Using The Same Template
Pinterest values fresh, unique pins. Whilst templates might look different because the image of text is the same, using the exact same template on Pinterest for each and every pin is boring, and doesn't bring anything different or of value to Pinterest, and its pinners.
I get it. It's an easy way to continue churning out 2-5 fresh pins each day, but you're going to need to put in a little more groundwork if you want to continue growing your account.
This is only speculation and Pinterest have never officially announced this, but as a platform that priorities inspirational ideas, in posting the same templated post every time I feel like reach is automatically limited which stops you from getting many views on your pins.
The solution is to keep re-energising and switching up your pin templates. Remember to keep them clear, concise and easy to read too.
4. You Aren't Posting Consistently
Posting once a week and wondering why your account is not growing and your pins have no views is like going to the gym once and expecting an 8 pack by the time you leave. Not. Happening.
You need to be posting consistently over time to show Pinterest that you're here for a long time, not a short time, and that what you have to share with fellow pinners is inspirational, useful and valuable.
The only way you can grow your views is to have a consistent posting strategy, best practice is 2-5 fresh pins per day.
5. You're Not Giving It Enough Time
Posting a pin and checking back the next morning to see you still have 0 views is not a fair judgement as to how well the pin is performing. My personal Pinterest account has 2,000 followers and attracts over 1 million monthly impressions, yet most of my new static pins don't start gaining proper traction for at least 4 weeks.
It takes time for Pinterest to start indexing your pins, it's not on overnight success story. Often seasonal pins for example won't become popular and rank well until the following year.
Remember, this is a visual search engine with delayed gratification, it's not like waiting for immediate likes to come in from Instagram.
6. You're Not Posting At The Right Times
Early impressions can be achieved on pins, but only when you post your pins at the right time. Posting your pins when your followers are most active is one of the best ways to get your pins noticed early on.
There's no clean cut way to find out this data. But if you have a business Pinterest account head to Analytics > Overview. You then want to toggle the date range to the last 24 hours. If you select the performance over time metric to Impressions, you'll then be able to see at what time you receive the most impressions.
It's not the same for every account, but almost every account we work on has the most impressions during late evening, this does seem to be a common denominator as most people are scrolling and seeking inspiration on Pinterest after work. It's worthwhile regularly checking this data as weekends may be different to weekdays.
Posting your pins during the height of this impressions traffic is one of the best ways to tap into getting some early impressions onto those pins.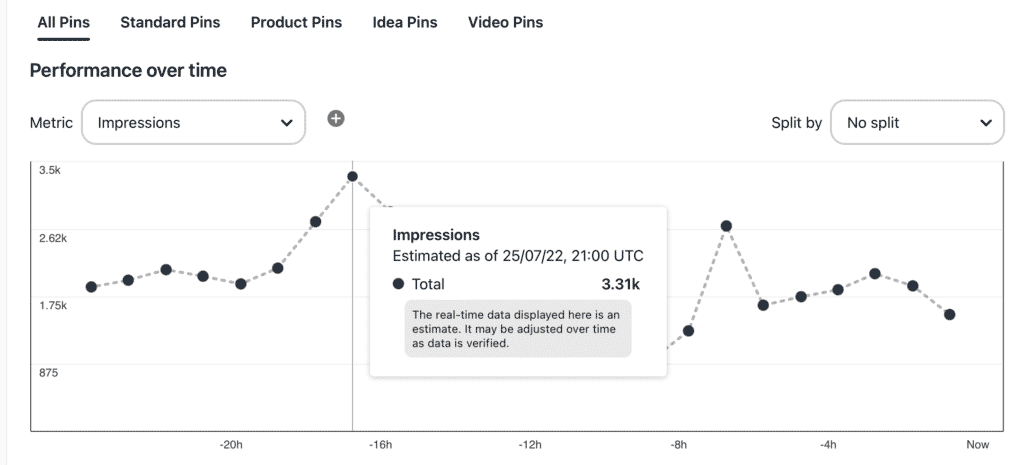 7. You're Posting The Same URL Each Time
Just like the templates, posting the same URL each time is not good Pinterest practice. Over time this is going to limit your reach and could be one of the main reasons that your pins are getting no views.
Pinterest does value unique, fresh pins so try sharing a range of different templates and direct pinners to different links, blogs and categories to have a well balanced mix of content.
If you start employing these practices into your Pinterest strategy you should start to see your pin views increase. Just remember to be patient, and mindful that it is a search engine.
If you need any help or advice with Pinterest please do get in touch, and have a look at our Pinterest management packages for more information on the services we offer.