Pinterest has always been somewhat of a misunderstood platform. It is simply not one that you can post 10 pins and expect something magical to happen. It requires much more initial groundwork than any other platform, but like SEO, the long game can indeed be incredibly fruitful.
Pinterest is a visual search engine, and Pinners use it to plan what they are going to do next. What they're going to wear next, what they're going to cook next, what home renovation they'll do next, and so on. So, when it comes to growing a Pinterest account, planning is the key to success, which is why I love Pinterest Predicts even more! We're going to explore exactly what Pinterest predicts is and how you can utilise this Pinterest data to plan and execute a destined to succeed Pinterest strategy.
What Is Pinterest Predicts?
Pinterest predicts is the upcoming years trends in advance from Pinterest, and they usually get it spot on! The new trends come from their global Pinterest search data and they release them at the end of each year in anticipation of the new years trends ahead. Pinterest call it a 'not yet trending report', but from years gone by they have accurately predicted each trend that has hit that sweet spot. This in itself offers all pinners a massive opportunity to jump on these predicted trends in advance of them hitting the big time.
All of their predicted trends for the year ahead are listed in Pinterest Predicts, each specific seed search term if you like, is then backed up with further trending search terms with information on their increase in search. For example, one of their predicted trends is Curve Appeal. We're talking about curvature in the home, and interiors. They've backed this trend up by the increase in these search terms;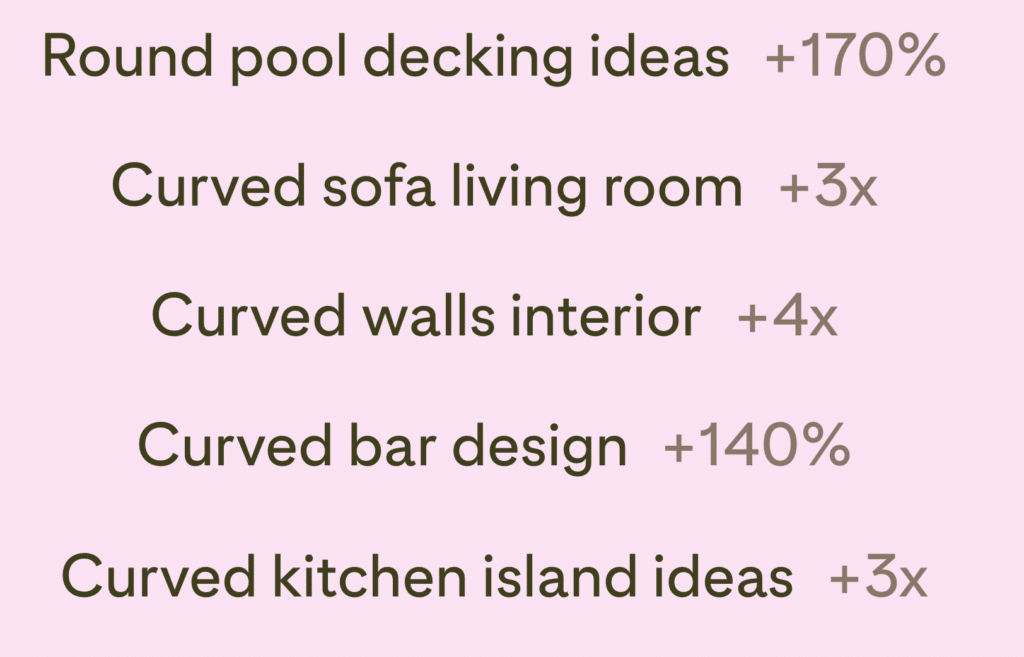 They also give examples as to how YOU, brands, businesses and bloggers can incorporate this into their pinning strategy, regardless to whether you are in the interior industry or not. Such as, if you're a beauty brand they encourage putting together a makeup tutorial to master a new curve inspired look. Pinterest has their own board for each of these trending topics too so you can get a further look into what these growing trends look like.
How To Use Pinterest Predicts
So, you're probably thinking, this sounds great, but how can I use it, and grow from it? Firstly you are going to want to plan. After our own research and strategy, the sweet spot is jumping on trends that hit their peak 2 months before. Pinning something as the peak happens is pointless as you have very little time to start growing impressions from that pin. So, planning in advance is KEY, as is creating a content calendar.
Find the predictions that suit your niche – the first thing to do is download the official Pinterest Predicts PDF and read through it religiously. Identify every single trend that suits your niche, or could be pivoted to suit your niche. As I mentioned before, Pinterest provides suggestions how an interior trend could be used in your makeup, so don't let your brands limitations stop you, think outside of the box.
Make a search term list – With every prediction (seed search term) make a list of every search term that goes with that prediction. You might want to use an excel file for this exercise. Once you have done that, put that seed search term into the search bar on Pinterest and see what further search terms are suggested, and write those down too. You now have a whole host of keywords that you want to immediately start putting into practice so you can capture the height of these trends throughout the year.
Write a blog for every search term – Whether you have a blog, business or brand – use your business website and write a blog post on every single search term you captured on your list.
Create x 5 organic pins for that blog – Once you have done this, create x 5 different organic pins for each blog post you have just written. Not every pin will take off, but using different graphics and formats will allow you to ascertain which format does work best for you. Trust me on this one, it's just like split testing Facebook ads, finding the best performing ad with the lowest cost per acquisition.
Repurpose that content – Repurpose that blog post in as many ways as you can! Use idea pins to break that blog post down into manageable stories. Pinterest are still prioritising idea pins so this is a great opportunity to capture some real impressions. Why not create a short, sit down video too? This can be posted as a video pin and even repurposed across other social channels such as in an Instagram reel or TikTok.
TOP TIP: Jump on the Pinterest Predicts as soon as they are released, they usually come out in the November of every year. This should be a religious report that you wait for, I personally love to see what's coming next and plan my content from there.
There are other ways you can plan your content throughout the year on Pinterest including using Pinterest Trends and Popular on Pinterest. This is another great opportunity to discover the current trending topics on Pinterest. If you are interested in Pinterest marketing, tired of seeing your pins flop, or just don't have the time to make it work? Then please do get in touch with us, we'd love to discuss your Pinterest goals with you.